Children
Children
At Westwinds Community Church we are committed to coming alongside families to support and encourage them as they lead their children into a vibrant relationship with Jesus Christ.
We provide opportunities for children to grow in their relationship with God, to develop their Biblical knowledge, to ask questions, to be prayed for, and to build friendships in a safe, inclusive program through a committed team of volunteers and staff.
We use a Bible-based, creative and practical approach to introducing children to God and His Word. Using things like science, art, puppetry, drama, games and music, we engage children and challenge them to follow Jesus everyday so they can make a difference in the communities in which they live.
SUNDAYS
On Sunday we offer KIDSCHURCH for toddlers to elementary aged children. The classes run from 10am to 11:30am.
We also have a nursery available for families of infants who attend services.
We do require all children to be registered and children under the age of 6yrs old to have a guardian on site.
KIDSCHURCH BREAKFAST PROGRAM
On September 25th (running until June 18th 2017) we will be starting a weekly, Sunday program called "KIDSCHURCH Breakfast". KIDSCHURCH attendees (children in preschool to Gr 6) will be offered a simple, but nutritious breakfast at church between 9:30am and 9:55am. It will include options like cereal, toast, instant oatmeal, fresh fruit and milk or juice. Simple. AND free.
If you would like to sign your child(ren) up please do so by filling out our KIDS CHURCH registration form and checking [X] in the KIDS CHURCH Breakfast space. (The staff need know a least a week in advance to your child starting the breakfast program).
The breakfast will be offered every Sunday but only served until 9:50am and children under the age of 6 MUST HAVE A GUARDIAN ON THE PREMISES.
The Breakfast Program will be suspended for the summer months and relaunched in the fall.
If you would like any further information regarding KIDS CHURCH please contact our church office (604)576 9407 or email Pastor Karalee at [email protected]
Available Files to Download
To download, right-click the file and select "Save link as".
Upcoming Events
---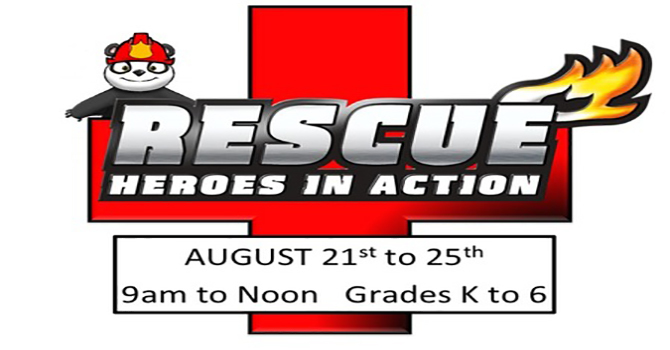 RESCUE: Heroes In Action day camp
August 21 - 25, 2017
WestWinds Community Church 6331 176th Street Surrey BC
9:00AM
News
---
 AUGUST 21 -25     9am to Noon Grades K to 6 Jump into action at WestWinds Community Church with fun Bible stories, creative take home crafts, exciting live music, get-up-and-move games and tasty treats. We will... Read More
---
Dear Parents/Guardians, Summer is quickly approaching; here is what you need to know.   Preteen Tuesday Nights The last night of preteen will be June 13th. We will be meeting at Crescent Beach (Blackie Spit Parking... Read More